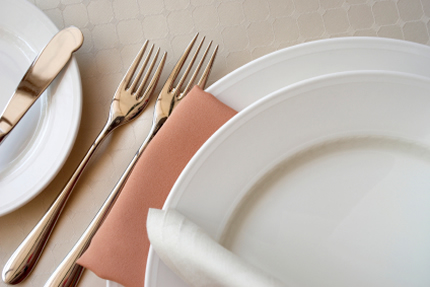 Catering and Allied services - and by that we mean any service associated with the provision of a catering service including vending, design and planning, hospitality, cashless systems, equipment procurement and purchasing.
This service is worthy of a special mention with the many and intricate disciplines involved in the delivery of a catering service and therefore the particular knowledge and expertise required to ensure all aspects of the service are provided be they qualitative or financial.
In addition to those areas covered as part of the generic service provision i.e. project management through to transition and implementation there are some specialist areas relating to Catering and Allied Services which are summarised below:
Health and Safety
Inspection of catering facilities covering all aspects of Health and Safety at work relating to the provision of catering and allied services.
A full and detailed report is provided, covering structure and facilities and Health and Safety issues together with a technical report including actions for both the service provider and client to meet necessary legislative and due diligence requirements.
Food Safety
As with Health and Safety an inspection of catering facilities covering all aspects of the Food Safety Act.
A full and detailed report is provided covering the requirements of the act in relation to the facilities, equipment and operational procedures and where identified, the clients and service providers obligations to ensure the requirements of the act are met in full and that any potential exposure to the client is remedied.
Purchasing Efficiency
Verification that all suppliers meet with the client's expectations in respect of quality, product range availability and value for money. Particular emphasis is placed on the accuracy of invoices regarding both the price and the total discount available from all purchases.
Where possible we will audit the service providers arrangements via their offices not just use unit based information and as a minimum our investigations cover the following.
Supplier invoice control and bookwork procedures
Ordering and receiving procedures
Raw material specifications
Shopping Basket comparisons
Stock control procedures
Supplier inspections and monitoring procedures
Trading agreements/pricing
Design and Planning
We are able to offer an independent catering design consultancy on a total project management basis, if required, covering Commerce and Industry, Schools and Colleges and Hospitals.
"Green field" or "Refurbishment"
Working with the client and service provider (if appropriate) we are able to provide a fully coordinated package to ensure total delivery of our clients' requirements within budget expectations, on time and snag free.
As part of the design team, our consultancy services would include liaison between Client, other professionals and equipment suppliers and monitoring and approval of contractor working practices and drawings, contractor procurement and manufacture of equipment.
Initial planning would encompass:
Design brief development
Initial space planning exercise
Agreement/advice on initial set up/budgetary requirements
Advise other professionals (M & E consultants, architects, cost consultants etc.) on service requirements, space and costs
Project Management covering:
Production of AutoCAD layout drawings
Production of AutoCAD elevated drawings (if appropriate)
Preparation of full M & E services requirement schedules
Preparation of detailed equipment specification and tender documents
Production of mechanical and electrical services requirement drawings
Liaison with all other professionals throughout contract period
Liaison with local authorities/statutory bodies (EHO/Fire officer etc.)
Advise on 'best fit' specialist catering equipment specialists and provide technical analysis of tender bids
Service to oversee staff training by specialist contractor
Monitoring of contractor's 'after sales' performance